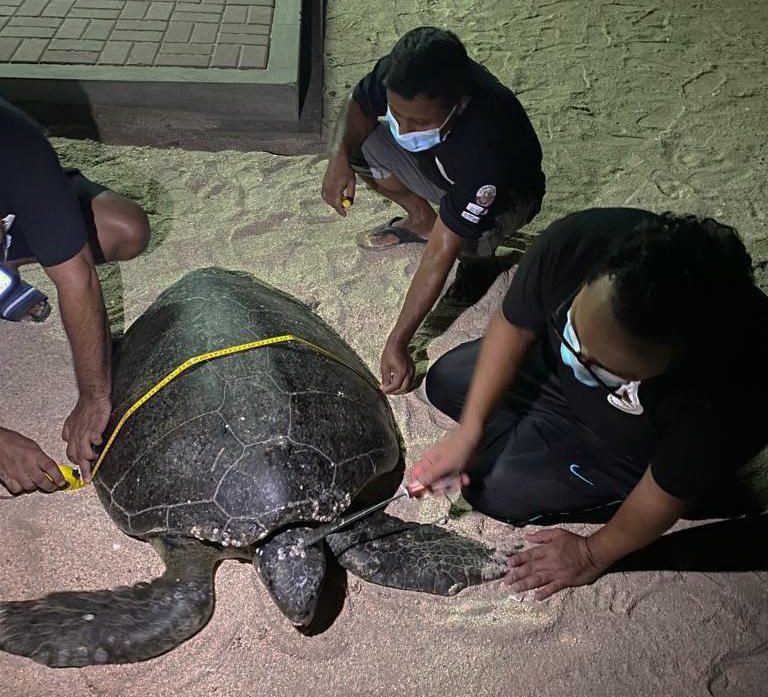 After finding it on Al Maroona Beach: Treating a rare sea turtle and releasing it into the sea
The Ministry of Environment and Climate Change, represented by the Department of Wildlife Development, announced the discovery of a rare sea turtle, "The Olive Ridley", on Al Morona Beach, after it drifted to the beach.
The turtle was transferred to Fuwairit Beach, under the supervision of the Ministry of Environment and Climate Change inspectors, where first aid was provided to it, some wounds were treated, and marine organisms attached to it such as barnacles (balanus glandul) were removed.
The measurements and weight of the turtle were taken and its type "Olive Ridley" was confirmed, then it was released to the sea after ensuring its safety and ability to swim.
It is worth noting that the sea turtles that frequent Qatar beaches are primarily hawksbill, and green leatherback turtles, with a large head, have been rarely recorded, but the Olive Ridley turtle is one of the rare cases that are monitored in the coasts of the country.
Recently, there have been repeated cases of injured and stranded turtles being reported in different parts of the country, where they are treated and ensured of safety at the Turtle Project Fuwairit Beach headquarters and then released back into the sea.
It is stated that the turtle was reported by a citizen, and on this occasion; the Wildlife Development Department extends its sincere thanks and appreciation to the honorable citizen, for his cooperation and contribution to preserving the marine environment.