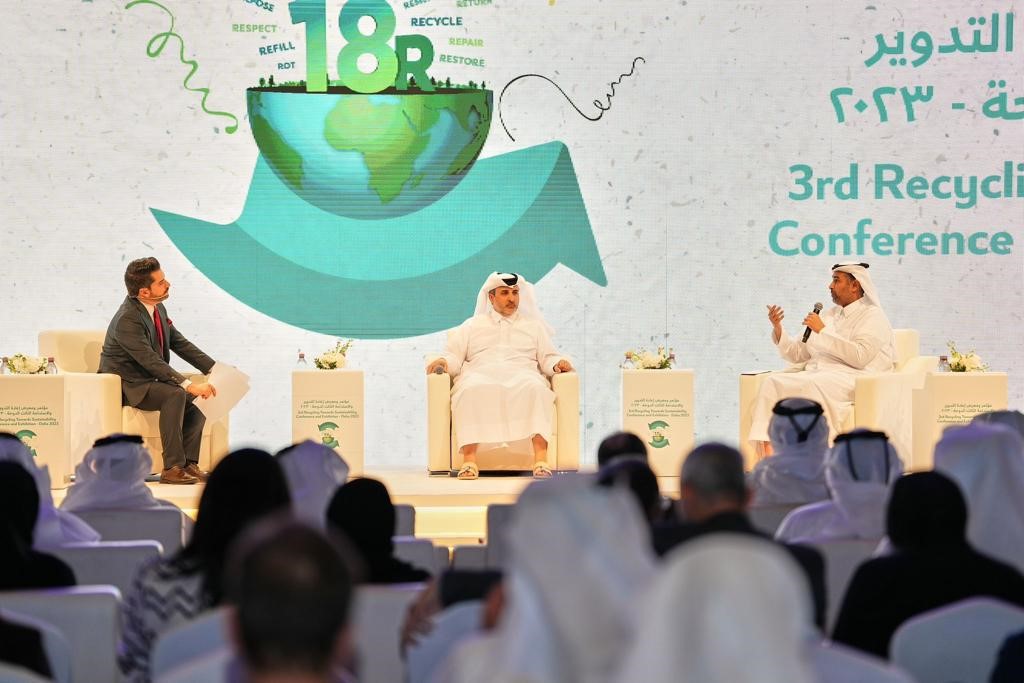 During his participation in a panel discussion at the Recycling and Sustainability Conference, the Minister of Environment, His Excellency, stated: We are committed to waste recycling as part of Qatar's National Environmental Strategy
His Excellency Sheikh Dr. Faleh bin Nasser Al Thani, the Minister of Environment and Climate Change, emphasized that tire waste represents a significant environmental issue due to its impact on air, soil, and groundwater quality, as well as its contribution to certain fires. He also highlighted the Ministry of Municipality recent focus on addressing the soil contamination resulting from this pollution.
This came during his participation in a panel discussion held today at the 3rd Recycling and Sustainability Conference and Exhibition – Doha 2023, organized by the Ministry of Municipality, taking place from May 9 to 10, 2023.
During his participation in the session, he added that the Ministry of Environment has developed Qatar's National Environmental and Climate Change Strategy 2030, which focuses on addressing such issues through the fourth pillar of the strategy. This pillar is dedicated to the circular economy and waste management. He pointed out that leaving waste untreated results in fires due to the release of methane gas, and the decomposition of waste is also a significant source of pollution, affecting soil, groundwater, and biodiversity. He noted that the Ministry of Municipality is a key partner in the implementation of this strategy.
His Excellency the Minister of Environment and Climate Change affirmed that the role of the Ministry of Environment and Climate Change in recycling processes is supervisory and regulatory. The ministry is tasked with implementing Qatar's National Environmental and Climate Change Strategy, particularly its fourth pillar, which focuses on waste reprocessing and the circular economy.
During the session, he emphasized that working on waste utilization and recycling will contribute to achieving sustainability and preserving natural resources. The ministry is actively promoting such efforts, underscoring the importance of focusing on all types of waste, whether organic, natural, or industrial. This is achieved through awareness programs and changing misguided consumption behaviors.
He also highlighted that regarding construction materials and their recycling, the National Waste Guidelines emphasize the necessity of reusing around 40 to 50% of these materials in construction processes. If achieved, we will have contributed to conserving natural resources and achieved a significant global accomplishment for the state of Qatar.
His Excellency the Minister of Environment stated, 'We hope to achieve the conference's vision of reaching zero waste. The state also aims to minimize landfill rates as much as possible, achieved through recycling waste or secure disposal in cases where materials are hazardous.'
In the field of scientific research, His Excellency Sheikh Dr. Faleh bin Nasser Al Thani emphasized that there are four logistic areas distributed across all regions of the country, where thousands of tons of unused excavation materials are collected. Qatar Primary Materials Company works on reusing these materials, which significantly contributes to reducing the import of construction materials.
Regarding environmental awareness and education, His Excellency Sheikh Dr. Faleh bin Nasser Al Thani mentioned that the ministry is actively engaged in several programs aimed at promoting environmental awareness. Additionally, the Ministry of Education and Higher Education has incorporated environmental awareness and the importance of conservation into the new school curricula. Moreover, the ministry regularly conducts visits to schools and gatherings to raise awareness about these crucial issues. He emphasized that the ministry's aspiration is to expand these programs and workshops to encompass all segments of society, including citizens, residents, and even labor groups, to educate them about recycling, sorting, and making the most of waste.