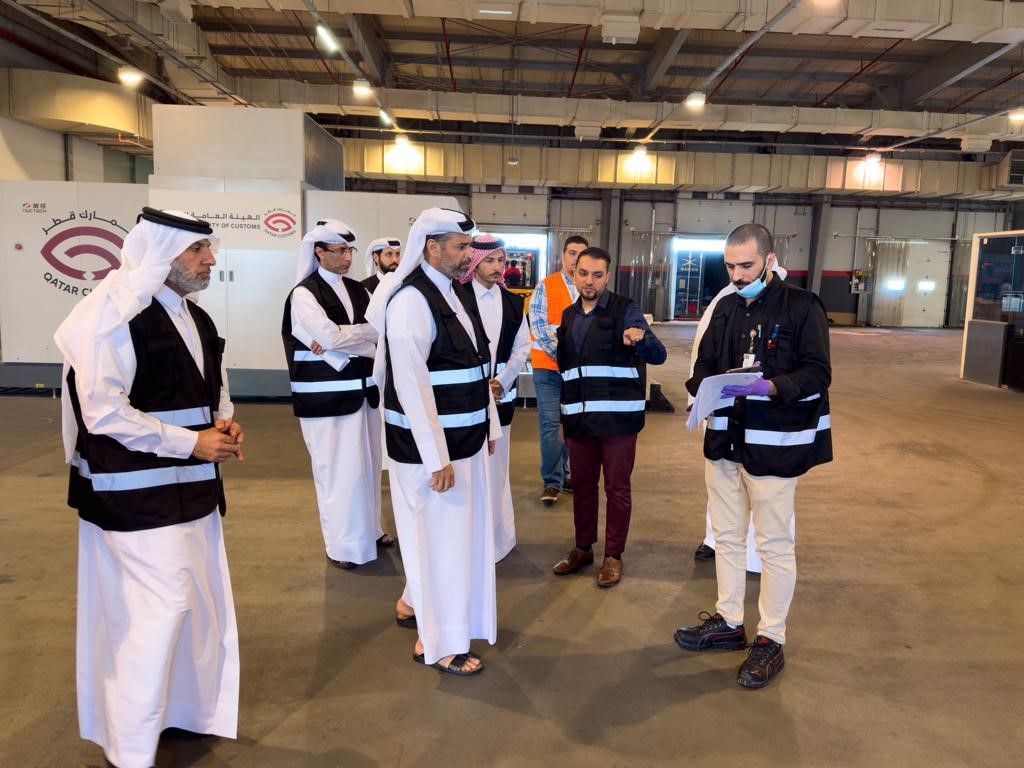 Minister of Environment Checks Customs Cargo Inspection Procedures During His Visit to Doha Port
His Excellency Sheikh Dr. Faleh bin Nasser Al Thani, the Minister of Environment and Climate Change, conducted an inspection visit to Hamad Port to get an update on the operational progress at the port. During the visit, he monitored the roles of the Radiation Control Department and the Hazardous Chemicals and Waste Department in overseeing various customs shipments entering the country.
During the visit, His Excellency listened to a presentation delivered by the staff of both departments. The presentation included a detailed explanation of the steps they undertake in monitoring and analyzing materials to ensure the highest efficiency and professionalism in radiation protection and chemical management. The presentation introduced the role of the radiation portal system in detecting hazardous materials during their passage. These advanced technology-equipped portals identify shipments containing hazardous substances, directing them to laboratories for component and hazard analysis. This process upholds Qatar's highest standards of radiation security and safety.
The visit also included a field tour of the port's laboratories to observe their readiness and the advanced technological equipment and cutting-edge techniques available there. These resources contribute to achieving the ministry's vision of ensuring the security of all materials entering the country.
The visit concluded with a field tour of the customs inspection platforms, where His Excellency, the Minister of Environment and Climate Change, observed the procedures and steps carried out by the ministry for the clearance of customs shipments. After inspection and ensuring their safety, free from any radiation or hazardous materials that could harm the public health of Qatar's residents.
In the context of qualifying and training the workforce at the port, a number of officials from the ministry provided a detailed explanation of the courses and training workshops conducted by the Ministry of Environment. These initiatives aim to equip their staff members with the necessary skills to effectively carry out their assigned tasks. This includes optimal utilization of all modern equipment they operate and familiarizing themselves with the full capabilities of such equipment. This enables them to apply relevant legislation and decisions with high capability and efficiency in their daily work.
At the end of the visit, His Excellency Sheikh Dr. Faleh bin Nasser Al Thani, the Minister of Environment and Climate Change, praised the measures and efforts undertaken by the staff of both departments in enforcing the laws and regulations related to Qatar's radiation safety and prevention of hazardous chemicals entering the country. He emphasized the importance of employees working with utmost vigilance and highlighted the necessity of ensuring the highest standards of security and safety in handling these hazardous materials, to protect their health and the well-being of all workers at the port.