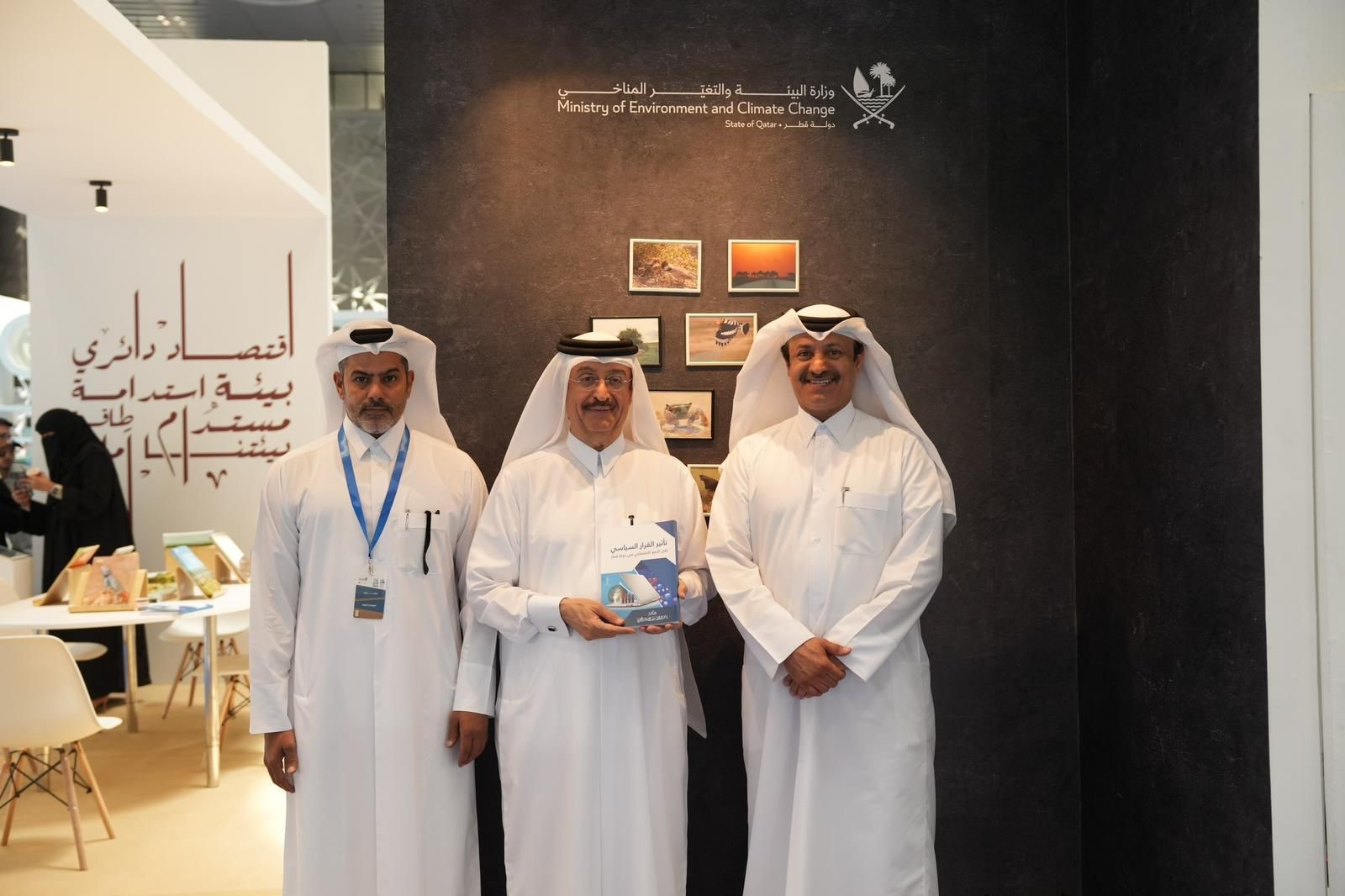 The Ministry of Environment and Climate Change is participating with a distinguished pavilion at the Doha International Book Fair in its 32nd edition, under the slogan "With Reading, We Rise."
The Ministry of Environment and Climate Change is participating with a distinguished pavilion at the 32nd edition of the Doha International Book Fair, which is taking place from June 12th to June 21st, 2023, under the slogan "With Reading, We Rise."
The pavilion of the Ministry of Environment and Climate Change features a collection of Qatari environmental books that address the local environment, both terrestrial and marine. These books also aim to familiarize Qatari citizens with important wildlife and biodiversity in Qatar and ways to conserve them. The exhibited books also cover the risks facing these species and the efforts undertaken by the state to preserve them and work towards their reproduction.
Moreover, the pavilion provides a comprehensive introduction to the natural reserves in Qatar, which cover a significant part of the local environment, both terrestrial and marine. It also highlights the state's plans to expand these reserves and work towards their preservation and protection from any damages or encroachments. Additionally, the pavilion showcases all the legislations and laws issued by the state to safeguard these reserves.
The pavilion of the Ministry of Environment and Climate Change introduces Qatar's eco-tourism destinations. Additionally, it showcases a large and captivating display of the digital environmental library, which features the ministry's latest publications. The books and publications are presented electronically, making it easier to access and read them accurately through a browsing area.
The Ministry of Environment and Climate Change also offers an enjoyable opportunity for the public through a corner showcasing the best photographs of the local nature. These photographs, captured by the ministry's lenses and local environmental enthusiasts, include creative shots of birds, marine creatures, wildlife, as well as images of Qatar's environmental plants. Additionally, there is a designated corner for photography.
This stems from the Ministry of Environment and Climate Change's belief in the importance of reading in shaping and forming the minds of future generations. It also aligns with their vision that reading and acquiring knowledge are the best ways to promote public awareness among citizens. Through their pavilion and publications, the ministry aims to elevate the environmental culture within the local community, raise awareness about the significance of preserving the local environment, and shed light on the sustainable development efforts carried out by Qatar in recent years, as well as its plans for the future.