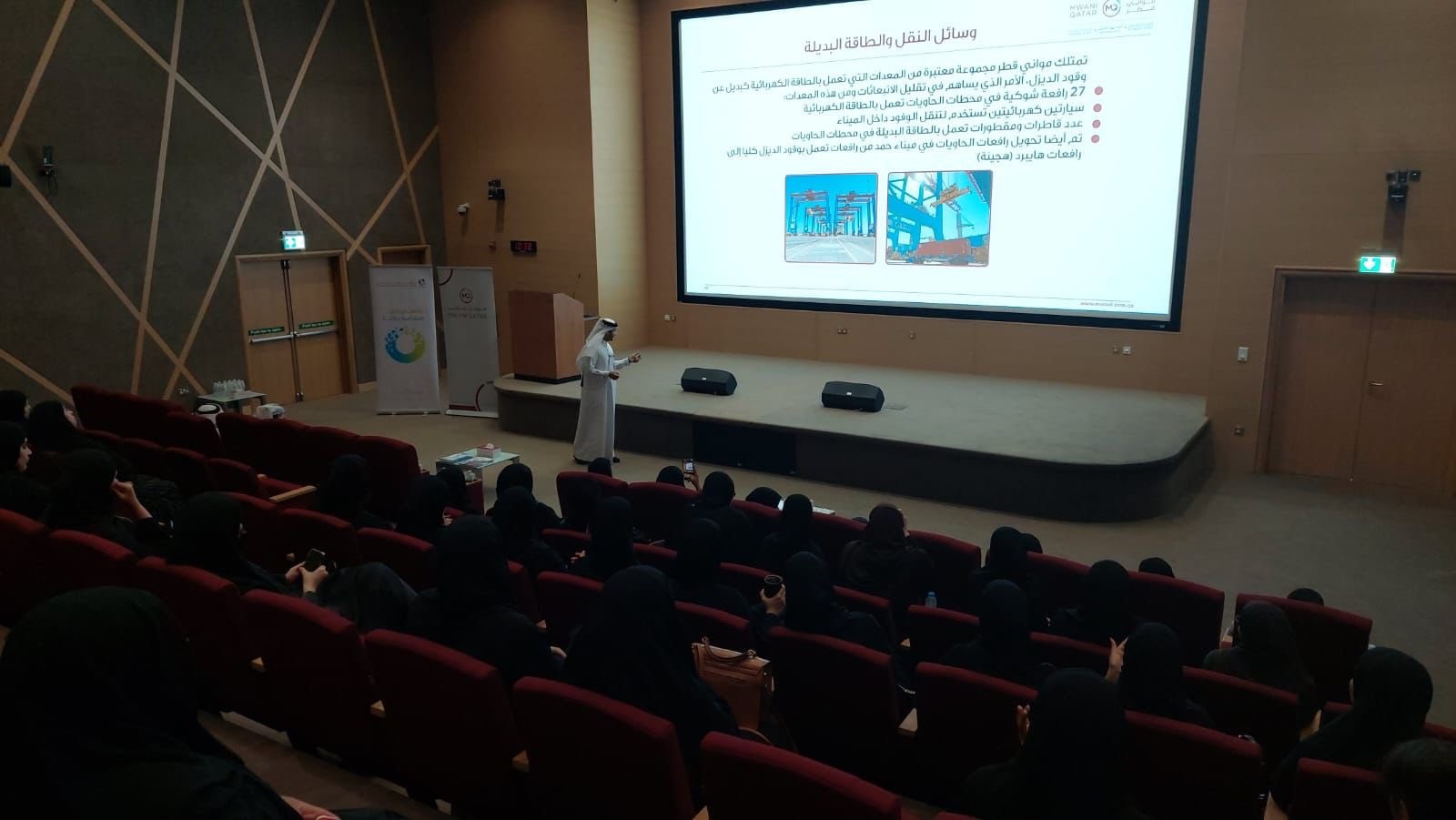 The Ministry of Environment and Climate Change organized an educational trip for female graduates from Qatar University to Hamad Port
The Ministry of Environment and Climate Change organized an educational trip for the Biology Association, as part of the Qatar University Alumni Association, to Hamad International Port on the occasion of World Oceans Day. The purpose of the trip was to promote awareness about marine environment conservation and to explore the biodiversity in Qatar.
During the educational trip, Captain Abdulrahman Al-Marzouqi from Qatar Ports gave an informative lecture. He discussed Hamad Port's contribution to environmental conservation through the establishment of green buildings that aim to achieve sustainability. He also highlighted the port management's commitment to implementing environmental conservation standards during the construction of all its buildings.
The Ministry of Environment and Climate Change also conducted an informative workshop during the trip, which included an introduction to World Oceans Day. The workshop highlighted the ministry's efforts in marine environmental conservation and its issuance of various legislations that contribute to the preservation of marine organisms and their habitats. The attendees were also informed about the efforts of the ministry's affiliated departments in implementing these legislations, thus enriching the biodiversity in the regional waters.
The visit to Hamad Port also included an introduction to marine pollution and its detrimental impact on aquatic life, particularly the significant effects of plastic on the marine environment. The efforts of Qatar in combating this type of pollution were highlighted as well. The organizers from the Ministry of Environment and Climate Change shed light on plastic codes and symbols, explaining their significance. This contributed to spreading awareness about the proper ways to use plastic and the impact of each type on public health.
The educational trip also included watching documentary films in the special 4D cinema of the port, which showcased the different stages of Hamad International Port. Additionally, there was a guided tour of the port's museum, followed by a visit to and observation of the aquarium tanks, where participants learned about the objectives behind their establishment and the various types of fish housed in those tanks.